Water Repellent Innovations
For all those messy situations that we've ever been in, we've always wished there was a water repellent spray or material to answer our prayers.
Believe it or not, it has been answered with products that do just that. However, there is always room for improvement for these innovations to become better and more reliable.
One example is NeverWet by Rust-Oleum, which is a superhydrophobic coating that repels water and heavy oils. The user can use this spray and apply it to just about anything from clothes to furniture and even electronics (although not recommended so do not attempt that at home). However I do recommend that this spray would be a neat product to try on fabrics, perfect for those sewing projects, to keep them nice, dry, and clean!
Below is a demo from HomeDepot using NeverWet!
Aside from that miracle spray is Kripa Varanasi, an Associate Professor of Mechanical Engineering from MIT, who has developed a water-repelling material by creating a textured surface with tiny ridges. His method was more effective than what previous scientists were able to develop. It is so efficient that the drops are able to bounce back off the surface!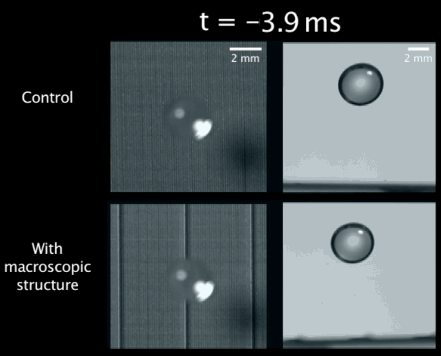 To learn more, watch the video below for an in-depth explanation.
These innovations are just incredible!
Sources: Ars Technica, NeverWet
Related
2 Comments on "Water Repellent Innovations"